June 27, 2019
Golden Thai Fish Cakes with Sweet Chili Dipping Sauce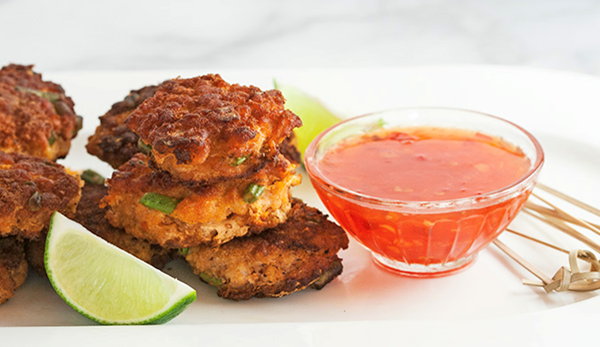 Yield: 12 servings
Time: 30 minutes

Ingredients:
12 oz. (drained weight) Wild Alaska Pollock
1/4 cup finely diced carrot (use box grater or grater attachment on a food processor for ease of prep)
1/8 tsp. white pepper
1/4 tsp. salt
3 Tbl. cornstarch
1 Tbl. soy sauce
1 Tbl. fresh lime juice
1 Tbl. Thai sweet chili sauce 
2 tsp. minced fresh garlic
2 tsp. very finely minced fresh ginger
1 egg white
2 Tbl. chopped fresh cilantro 
3 green onions, white and green parts, thinly sliced (approx. 1/3 cup)
2-3 Tbl. vegetable oil for cooking
Lime wedges for serving (optional)

Dipping sauce:
1/2 cup Thai sweet chili sauce
2 Tbl. fresh lime juice
1 Tbl. chopped fresh cilantro 
Sriracha sauce to taste, approx. 1-2 tsp. (optional)

Instructions:
Fish cakes:

1. Drain excess moisture from Wild Alaska Pollock fillets and pat fish dry with paper towels. Cut fish into 1/2" chunks. Place chunks in freezer for 10-15 minutes to hard chill prior to making cakes. This will assist with mixing in the processor.

2. Place diced or shredded carrot in a small microwave-safe bowl. Cover with plastic wrap and microwave for 1 minute to soften slightly.

3. In a bowl, mix white pepper, salt, cornstarch, soy sauce, lime juice, and chili sauce until smooth. Stir in garlic, ginger, egg white, and half of the hard chilled diced fish. Transfer mixture to a food processor and process for about 20 seconds, until coarsely pureed but not a paste. Add the remaining hard chilled diced fish, chopped cilantro, green onion, and chopped carrots, and pulse just enough to mix evenly but with some of the fish texture still remaining. The recipe can be made to this point and then covered and refrigerated, for up to 4 hours, before portioning.

4. Divide mixture into 12 equal portions on a parchment-lined sheet pan. Form into 1-1/2 to 1-3/4 inch cakes. Cover and refrigerate until ready to cook.

5. Using a non-stick saute pan, heat 1 Tbl. of vegetable oil over a medium-high heat. Once the oil is hot, place as many cakes in the pan as will fit without overcrowding. Turn the heat down to medium low and cook for 2-1/2 minutes. Flip the cakes over and cook for an additional 2-1/2 minutes, until lightly golden. Transfer cakes to a paper towel lined plate or sheet pan and keep warm in the oven until all cakes are cooked. Serve with dipping sauce and lime wedges.

Dipping sauce:
1. Combine the ingredients, adding Sriracha sauce to taste.

2. Set aside until needed. Refrigerate sauce if preparing more than two hours in advance.