April 15, 2021
American Seafoods' Rasmus Sorensen Joins SeaShare Board of Directors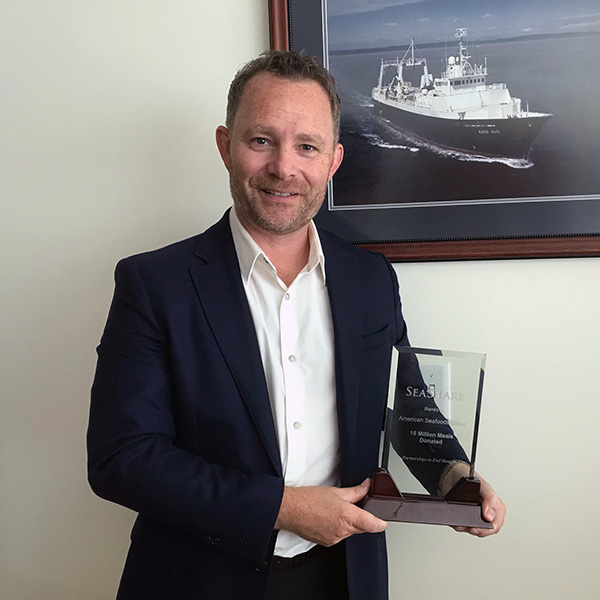 Written by Rasmus Sorensen, Executive Vice President of Global Sales

Supporting local communities and giving back has always been an important part of our mission at American Seafoods. We are committed to finding new ways to make a positive impact.

American Seafoods is a longtime sponsor of SeaShare, a nonprofit organization that promotes partnerships between government agencies, seafood companies, and food banks to donate fish to people in need. With food insecurity at an all-time high and the need for nutritious protein greater than ever, I am proud to be taking American Seafoods' longstanding partnership with SeaShare to the next level by joining the board of directors.

The story of American Seafoods' partnership with SeaShare dates back to SeaShare's inception in 1993. Tuck Donnelly, a former American Seafoods employee, saw an opportunity to lead the seafood industry in a collective effort to reduce waste and donate to hunger relief efforts. He formed SeaShare to address the challenge of what to do with fish caught unintentionally by seafood companies, known as bycatch. His idea was simple: why not use this great nutritious protein to feed people in need instead of letting it go to waste? Fishing companies like American Seafoods do everything we can to avoid bycatch, but thanks to SeaShare, it's possible to donate bycatch to foodbanks across the United States.

Now under Jim Harmon's leadership, SeaShare has evolved beyond bycatch donations from fisheries to include first-run, marketable product and monetary donations. SeaShare has now donated over 250 million seafood servings to food banks across the U.S. (22 states covered in 2020), with 17 million servings coming from American Seafoods. SeaShare is proud to have over 200 partners across the industry, and one of my goals is to expand that reach even further.

The COVID-19 pandemic has further reinforced economic inequalities, and of the people who receive donations through food banks, 40 percent are children. Children need nutritionally balanced diets to promote growth and brain development, and seafood is one of the most sought-out protein among food banks. Seafood is rich in nutrients including vitamins B-6, B-12, ad D, as well as omega-3 fatty acids. We hope to provide healthy seafood for children who may not otherwise have access.

In my role on the board, I plan to further bolster the relationship between American Seafoods and SeaShare. I will also use my network in the seafood industry to encourage other businesses to partner with Seashare. Since last March, the need for protein at U.S. food banks has increased by 60 percent. This is a pivotal time for us to be ramping up our efforts. The more we can share the SeaShare message within the industry, and the more donations we can bring in, the more we can give back as an industry.

I am honored to be a part of the SeaShare board of directors and am looking forward to driving this organization to the next level.

For every $1 you invest, SeaShare can provide 8 servings of seafood to those in need. Click here to learn more about how you can contribute.