March 03, 2022
RECYCLE – FOR ALL IT'S WORTH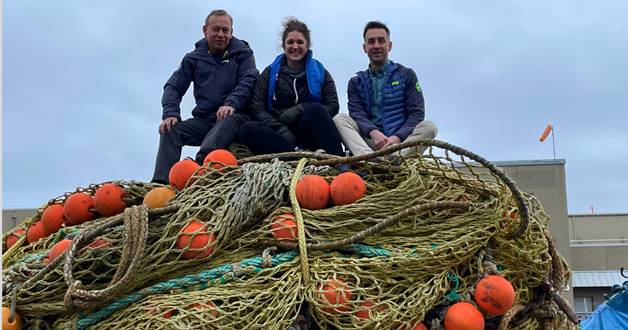 American Seafoods plans to recycle over 100 tons of used nets with Net Your Problem this year, in addition to the 106 tons already recycled. Net Your Problem is an organization that has been actively establishing programs to dispose of waste in remote fishing communities and currently operates in Alaska, Maine, and Washington, and have programs in development in Massachusetts, Florida, and Texas. They have recycled over one million pounds of fishing gear plastic since 2017 turning them into products you would recognize like phone cases, credit card readers, buckets, kayaks, and office furniture.
American Seafoods leadership visited the net yard where all the used nets are collected after the fishing season. Nicole Baker, the founder of Net Your Problem, accompanied our visit and said, "The visit really underscores the company's commitment to learning about and understanding how the Net Your Problem process ensures that their gear is being responsibly disposed of at its end of life, is kept out of the landfill, and provides raw materials for manufacturing in other industries." Nicole is a former North Pacific groundfish fisheries observer who became actively involved in looking for a way to recycle fishing nets from Unalaska.
She added, "We are so excited to have them as a repeat customer, planning how to recycle more gear this year from Seattle and Dutch Harbor in addition to the 106 tons they recycled with us in 2019."  That's the equivalent weight of 2 Blue whales! American Seafoods works with Net Your Problem to collect fishing gear from the vessels and send it to recyclers who turn it into the raw material needed to manufacture plastic products.
Frank Vargas, a 48-year industry veteran who started the donations program with Net Your Problem, and now manages the operations at American Seafoods said, "It's indeed a source of pride to see how we have evolved and how our nets contribute to being the raw material for someone else – sustainably and efficiently."
American Seafoods continues to recycle the fishing nets, retrieve "ghost gear" at sea and do our part to keep the fisheries sustainable and pristine. This is a responsibility we take very seriously.