February 25, 2019
Pan Roasted Wild Alaska Pollock with Artichokes Barigoule and Lemon Fennel Marmalade
2nd Place Recipe from the Wild Creative Culinary in Dallas, Dec. 3, 2018
Created by Chef Adam West, Local Yocal, Dallas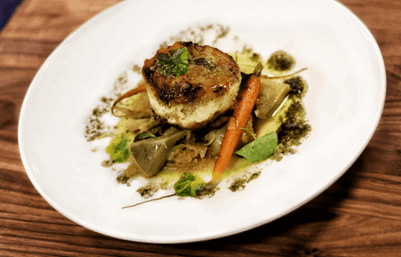 Ingredients:
4 pieces Wild Alaska Pollock (5 to 6 ounces each)
2 ounces pure olive oil
2 ounces butter
3 sprigs thyme
1 clove garlic
Directions:
Place Pollock on tray and add paper towels on top and apply light pressure with a weight such as a can of vegetables.  This will assist in pulling any additional water from the fish and allow it to sear evenly.  Heat saute pan over high heat until very hot.  Add oil and prepare to add fish.  Season liberally with salt and place in to smoking saute pan.  Reduce heat to medium and allow to cook for 2 to 3 minutes on this first side.  Flip fish and add butter, thyme, and garlic.  Baste fish for approximately 1 minute and finish in oven at 350°F if needed.  Serve with Artichokes Barigoule and Lemon Fennel Marmalade.
Artichokes Barigoule
Ingredients:
1 yellow onion, julienned
1 head fennel, julienned
2 tablespoons garlic, chopped
1 cup white wine
2 quarts chicken stock
1 teaspoon saffron
2 cups baby carrots or carrot slices
1 tablespoon sea salt
4 artichokes, cleaned and trimmed of choke, quartered (see note)
4 ounces butter, unsalted
1 teaspoon fresh tarragon, chopped
Directions:
Over medium heat, sweat the onion and fennel till slightly translucent. Add chopped garlic and cook an additional 3 minutes.  Add wine and deglaze; allow to reduce for 2 minutes.  Add chicken stock, saffron, and carrots, then bring to a simmer. Season to taste with sea salt.  Allow to cook for about 5 minutes to give the carrots a head start, then add the artichokes.  Cover with lid and allow to cook for approximately 15 minutes or until the artichokes are tender.  Add the butter and fresh chopped tarragon and remove from heat, allowing to cool in the liquid.
NOTE:  While cooking the first three ingredients, prepare the artichokes by removing the top and outer leaves very carefully (sharp spines on the leaves).  Once cleaned, use a spoon or paring knife to remove the "choke" or the inner purple hairs.  The stems should be pared down as well to reveal their soft flesh.  Once trimmed, immediately submerge in water with a bit of lemon or vinegar to keep from oxidizing.
Lemon Fennel Marmalade
Ingredients:
1 yellow onion, julienned
1 head fennel, julienned
½ cup white wine
3 cups sugar
4 lemons, zest and juice
1 tablespoon sea salt
Directions:
Place onion, fennel, and white wine in a 4 quart steel pot, cover, and bring to a simmer.  Allow to cook until soft, then add sugar and lemon zest.  Allow to cook approximately 30 minutes or until the fennel is translucent.  Add the lemon juice and season with sea salt.  Allow to cook an additional 5 minutes or until fairly thick.