February 27, 2019
Sichuan Wild Alaska Pollock Hot Pot
3rd Place Recipe from the Wild Creative Culinary in Dallas, Dec. 3, 2018
Created by Chef Andrew Vu, Fine China, Dallas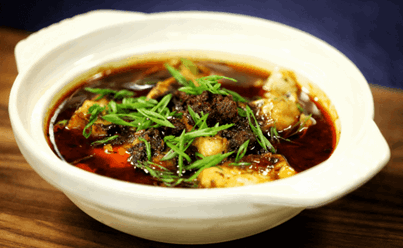 Braising liquid
Ingredients:
3 cloves garlic
1 medium yellow onion
2 ounces ginger
2 ounces green onion
2 tablespoons chili oil
2 tablespoons tomato paste
2 cups white wine
6 cups chicken stock (seafood stock or water can be substituted)
1 to 2 teaspoons fish sauce
2 teaspoons fermented black beans (optional: * brings depth of flavor and salt)
Salt as needed
Directions:
Peel your garlic, onion, and ginger and put into the food processor.  Rough chop the green onion and add to the other vegetables.  Process the vegetables until minced. Heat up the chili oil in a pot on medium heat until fragrant.  Add the minced vegetables and saute until soft and it starts to caramelize.  Add tomato paste and stir until fragrant. Deglaze with the white wine and reduce by half. Add chicken stock, and optional fermented black beans, and season with fish sauce / salt as needed.  Simmer for 10 minutes.
Sichuan Boiled Fish
Ingredients:
1 small head green cabbage
½ bunch green onion (whites for cooking, greens for garnish)
2 ounces garlic
1 ounces ginger
3 to 4 red Fresno peppers (jalapenos can be substituted)
1 teaspoon Sichuan peppercorns
1 teaspoon dried Chinese chili (crushed red chili flakes can be substituted)
6 to 8 cups braising liquid*
1 to 2 pounds Wild Alaska Pollock (2 ounce pieces / bite-size)
1 to 2 tablespoons Chinese dried chili paste (store bought, * use as much as needed for desired spice level)
2 to 4 ounces grapeseed oil (vegetable or canola oil can be substituted)
Directions:
Rough chop the cabbage into bite-size pieces. Chop the green onions, separating the whites for cooking and the greens for garnish.  Mince ginger and garlic.  Slice peppers into rounds.  Crush or grind the Sichuan peppercorns and the dried chili until slightly coarse. Heat a pot on medium high heat and saute the cabbage, green onion, ginger, garlic, and peppers until they start to caramelize. Add the Sichuan peppercorns and dried chilis to the vegetables and cook about 1 minute until fragrant. Add the braising liquid and bring to a boil.  Once at a boil, add the fish and turn down to a simmer.  Cook until fish is done (starts to flake). Move the stew into a service bowl.  Add the dried chili paste on top; do not stir in.* In a separate pot, heat the oil until it starts to smoke and carefully pour the oil over the chili paste (this will toast the spices and create an instant chili oil to top the stew). Garnish with green onions and serve with rice.