August 09, 2019
Unalaska Health Clinic Receives Donation from American Seafoods for Diagnostic, Urgent Care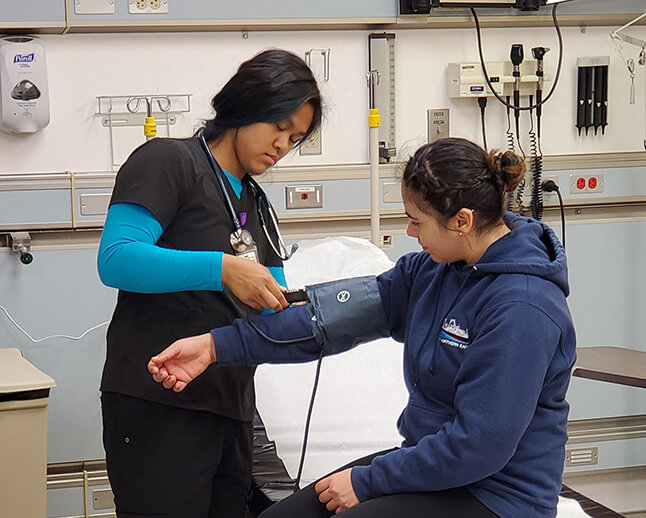 Iliuliuk Family and Health Services clinic employees like Kiara Villamor provide care
to local residents and seasonal employees of the fishing industry in Unalaska.

Residents of Unalaska and fishing crews of Dutch Harbor can look forward to quicker medical diagnostics and urgent care, thanks to a $125,000 donation to Unalaska's health clinic by American Seafoods Group and its primary investor, Bregal Partners. American Seafoods operates a fleet of six fishing vessels from Dutch Harbor.

The clinic will use this donation to purchase new and replacement equipment for diagnostic capabilities and urgent care, including an EKG, ultrasound equipment, vital sign monitors, and quality eye exam equipment.

"The impact of the new and upgraded equipment will contribute to improved patient flow, improved medical charting, and enhanced ability to see more patients," said Will Rodgers, Interim CEO of the Iliuliuk Family and Health Services, Inc. "I want to thank the entire American Seafoods organization for their generous support of the mission of the clinic." 

As the only clinic of Unalaska and the primary medical center of the Aleutian Islands, the Iliuliuk Family and Health Services clinic is integral to the health of the local community and thousands of fishing crewmembers based in Dutch Harbor during the season.

"We are proud to support the communities where we fish. This is a way to improve the quality of life in and around Unalaska," said Mikel Durham, CEO of American Seafoods. "Local residents and seasonal workers, including many American Seafoods crew members, rely on this clinic. It's an honor to be able to help."

American Seafoods has donated over $1 million to local causes as part of its mission to support communities in Alaska. In addition, American Seafoods was recognized last year by the nonprofit SeaShare for reaching a milestone of 15 million donated meals to foodbanks.

The clinic donation represents contributions from American Seafoods and the COFRA Foundation of Bregal Partners. The COFRA Foundation has a mission of using business as a force for good, with emphasis on environmental and social sustainability.

"Doing business and doing good go hand in hand," said Scott Perekslis, Co-Founder and Managing Partner of Bregal Partners. "The real human impact of supporting local healthcare is immeasurable, and we're honored to support the IFHS, its patients and the fishing industry."
Leadership from American Seafoods, Iliuliuk Family and Health Services, Unalaska
and Dutch Harbor pose in front of the clinic's Giving Wall. Left to right: Jim Fitch,
Unalaska City Councilman; Jack Pound, Dutch Harbor Manager; Jens Johnsen,
American Seafoods Northern Eagle Captain; Will Rodgers, Iliuliuk Family
and Health Services Interim CEO; Amy Dowds, Board President of IFHS;
Erin Reinders, Unalaska City Manager
#          #          #
About American Seafoods:
American Seafoods feeds the world with wild caught, sustainable, and frozen-at-sea products. The company is a leader in the harvesting, processing, preparation, and supply of quality seafood. Harvesting a variety of fish species, American Seafoods processes seafood into an array of finished products on board its state-of-the-art fleet of vessels. American Seafoods produces a diverse range of fillet, surimi, roe and block product offerings, made from Wild Alaska Pollock, Wild Pacific Hake, Pacific cod and yellowfin sole. Its products are sold worldwide through an extensive global distribution and customer support network. From the ocean to the plate, American Seafoods has established a global selling, marketing and distribution network bringing quality seafood to consumers worldwide. For more information, please visit www.americanseafoods.com.

About the Iliuliuk Family & Health Services Clinic:
Iliuliuk Family & Health Services, Inc. (IFHS), operates the local clinic which provides the community of Unalaska and the fishing fleet of the Bering Sea with comprehensive primary medical care and behavioral health care. IFHS provides a full range of primary care services which are augmented by a diagnostic laboratory, preventive health care, urgent care and emergency services, alternative medicine options, mental health services, x-ray, ultrasound, prenatal care, postnatal home visits, domestic violence counseling and health education and outreach. IFHS's medical clinic is staffed with family practice physicians, physician assistants and family nurse practitioners. For more information, please visit http://www.ifhs.org.