October 12, 2022
AMERICAN SEAFOODS OBTAINS FISH CERTIFICATION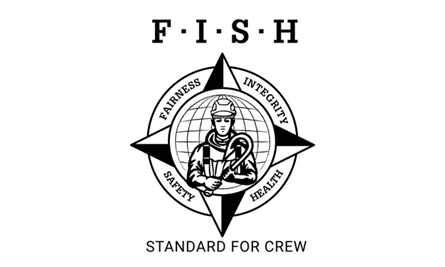 American Seafoods Company is excited to announce that all American Seafood vessels have achieved the globally-recognized Fairness, Integrity, Safety & Health Standard for Crew (FISH) certification. The FISH certification program is a rigorous, vessel-specific, and transparent at-sea program that assesses labor practices on fishing vessels and provides customers, consumers, and the general public assurances about the social/labor standards of the vessel.   
Designed for fishing operations - FISH is a third-party certification program explicitly tailored to labor practices and crew conditions on fishing vessels. FISH's four principles and twenty-eight criteria cover not only the core elements found in Sedex Members Ethical Trade Audit (SMETA) audits but also unique aspects of at-sea fishing operations. These include vessel safety protocols and equipment, crew accommodations and living spaces, onboard medical qualification and treatment, ship-to-shore communications, and elements of fisher-crew contracts.
International Labour Organization (ILO) C188 Work in Fishing Convention – FISH is based on the internationally-recognized ILO convention and related guidance for fishing labor practices. ILO-C188 is ratified by twenty nations and is widely viewed as a credible standard in the NGO community as well. 
Governance & Credibility - FISH is a non-profit organization guided by a global and operationally-diverse Board of Directors. FISH's Oversight Committee is responsible for technical aspects of the certification program and is comprised of standards experts, NGOs, union representatives, and industry leaders. FISH governance incorporates the Standard itself, a detailed Auditor Guidance Manual, and a framework that provides requirements and qualifications for both Certification and Accreditation Bodies based on best-in-class ISO principles to ensure FISH audits are performed by qualified third parties.
Global Program - FISH, is open to any commercial fishing entity worldwide. Alaska pollock catcher-processors are just the second fleet in the world to achieve the FISH standard, which provides customers confidence that any product harvested by these vessels adheres to the stringent principles and criteria of the FISH Standard. 
American Seafoods has long prided itself on being an industry leader both on and off the water. We have promoted and advanced leading fishing practices and environmental and fishery sustainability practices and continue this trend by being among the first globally to obtain the FISH certification.